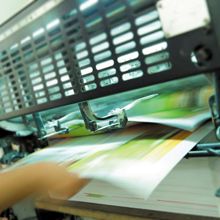 President's Message
I've been a printing executive for over 20 years, and I know what matters. I know that giving my clients more than they expect should be only the beginning. Exceeding expectations is not just a daily goal; it is a way of life that touches everything we do. Providing service that goes beyond the promise of a job well done is the only way we operate.
Quality printing is our product, but it is only a small part of the service we provide. Innovative thinking, marketing solutions and that extra measure of attention to detail are all part of the deal. So is our commitment to you. We know that long-term relationships are forged by putting client needs ahead of ours. To us, customer service is more that just a catch phrase for problem resolution, it is the cornerstone of our business.
At Printing Sensations, we hold ourselves to a higher standard. We call it the PS Advantage - that "something extra" simply not found anywhere else. It's more than just superior service, product excellence, and delivering more than expected. And it's part of who we are. Everyday. Every job. For every client.
I take great pride in what we do, and even greater pride in how well we do it. Our clients, many of whom have been with us 15-20 years, know this is how we do business. They see us as a partner, as an extension of their business; we see them as family.
I look forward to welcoming you to our family, too.
Sensationally yours,
Michael Gherman